If you have any questions about our products or services, please contact us.
Star-Ting Incorporated
7331 Huntertown Crescent NW
Calgary, Alberta, Canada T2K 4K3
Forthcoming Events
BOOKING NOW: Technical Demos for the new and disruptive, patent pending, PROCESS TO INTEGRATE QUANTIFIED QUALITATIVE DATA INTO ANALYTICS.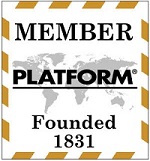 Loreen Sherman, MBA, CPP, RIMS-CRMP, CMC is a member
of PLATFORM®
Past Presentations
2018 March 27-28, Co-Keynote presenters David Bradford, Advisen Ltd. and Loreen Sherman, Star-Ting Incorporated on Day 1: Megatrends & Their Global Impacts, SVIA Silicon Valley, San Francisco, USA. Ltd. Sponsors: Advisen Ltd, and the InsurTech FUSION Summit; Second Presentation by Loreen for SVIA Startup Showcase.
2018 March 6-8, Panel presentation by Loreen Sherman for the National Privacy & Data Governance Congress. Calgary, Carriage House Inn.
2017 Global Petroleum Show, Petroleum Technology Alliance of Canada (PTAC) Showcase, ShaleTech Canada; Society of Petroleum Engineers (SPE) Calgary Projects, Facilities & Construction workshop – repeat presenter for the World Heavy Oil Congress
CONTACT US
We look forward to serving you.
* Indicates a required field.
[cf7ic]