RESPONSIBLE RISK MANAGEMENT®
Headquartered in Calgary, AB Star-Ting Incorporated (STI) is a security and risk management consulting firm. We are the only company that quantifies qualitative risk factors. We deliver service-oriented excellence for the sustainable development of assets and resources by assessing security risk areas for our clients.
REAL-WORLD SOLUTIONS
When you are the Chairman, President, COO, CEO or Vice President and accuracy matters to reduce misrepresentations, ensure compliance and due diligence of material public disclosures.
Complaint investigations (prevention, intervention and response tactics)
Director's and Officer's Liability (due diligence, compliance)
Investigations and crisis management, triage / prioritization
When you are the Commercial Business Development Director, Manager or Regional Country Manager and corporate decision matter for strategic planning and liability exposure.
Asset assessment (tangibles and intangibles)
Business and organizational continuity, damage assessments
Financial risk assessment (strategic, operational and hazard)
GAP Analysis (Shamrock model | network model)
Threat and "Responsible Risk Management®"
When you are the Operations Director, Manager or Managing Director and capital investment matters to protect and safeguard assets.
Countermeasures assessment and review
Emergency and disaster management, all-hazards approach
Physical security risk analysis, fundamental analysis
Risk and asset management, enterprise risk management approach
Risk control, allocation and mitigation for functional response plans
When you are the Director of the Board, Chairman or Officer and corporate reputation matters and evidence of due diligence is required.
Information security and business intelligence
Personnel security assessments of total risk
Security Policy review (delegation of rank and lines of authority)
When you are the General Manager, Head of Department, Head of Company and decision confidence matters for estimation, evaluation and examination under scrutiny.
Intelligence for health, safety and environment
Personnel screening techniques, e.g. workplace violence
RESP-ROI® qualitative analysis (reduction of systemic error & increased accuracy)
Vulnerability, threat and impact assessments
We analyze, report and disseminate intelligence reports for Boards, C-Suite and Senior Management to enable each to better discharge their duties in safeguarding and protecting assets and public trust.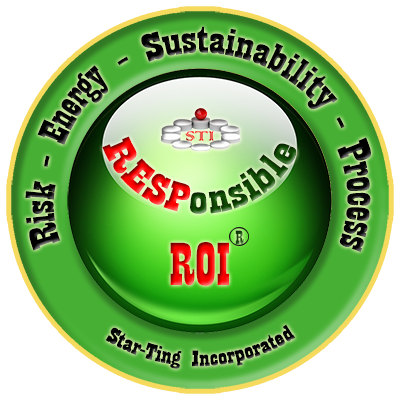 Get RESP-ROI® Studies and Reports to protect people and assets, minimize exposure to crime and terrorism, breaches of security and overall business risk.
TAKING ORDERS ON SECURITY ASSESSMENT PLANS
Order your next physical security assessment plan when accuracy or evidence of due diligence matters.
We collaborate with our clients in the internal and external review for regulatory compliance thru utilization of data analytics and RESPONSIBLE ROI® indicators to:
Build a client risk portfolio and develop a prioritized risk register;
Deliver meaningful science-based results on qualitative assessments;
Prepare risk mitigation plans to address regulatory audit and information requests;
Prepare security management plans,

Crime Prevention Through Environmental Design (CPTED) and crisis management plans;

Ensure effective risk management and key controls are maintained within a significant business process; and
Report on the status of risk of residual risk with recommendations for treatment.
We  deliver RESP-ROI® Intelligence Reports that ensures risk controls and decision-making outcomes are based on evidence rather than group-think or guess-estimates.